Wairoa Taiwhenua – Katarina Kawana
· Recognise the Council for establishing the Māori Constituencies for the 2022 elections
· Hinemihi Nursery (Wairoa Awa Restoration Group) is pairing up with more Marae based river plantings, including Pakowhai Marae one of the prioritised urupa at risk due to bank erosion. Also training venue for a 20 strong fencing team funded to complete 53kms of fencing and 165 hectares of planting
· Ahuriri Fish Hook Summit will be held in Napier in 2022
· Concerns raised around resource consent applications for surface water takes in relation to Cultural impact assessments
· Announcements being made from Wairoa District Council for planting along the Wairoa River
· Matangirau Reserves Board met for the first time yesterday, 8 June, Liz Palmer has been appointed Chair
· Covid-19 vaccinations to be rolled out soon
· Working collaboratively with Enviroschools in Wairoa.
Taiwhenua o te Whanganui a Orotu – Api Robin
· Two public meetings held in March and April with the Department of Conservation (DoC) on white bait stands on Clive River
· Proposals from those hui were tabled (following)
· Budget 2021 supports the long-term wellbeing of New Zealanders by making significant progress towards Government priorities, investing $4.7 billion in Health, which includes more funding for PHARMAC, plus the establishment of a Māori Health Authority
· Working collaboratively with HDC Planning team on implementing distribution of budgets for water services / social services / housing etc to meet whanau needs
· Upper Mohaka planting and pest control programmes progressing well
· Regards the domestic water supply current allocation of 20m3 per day/per property, the TANK Plan Change is currently being considered by commissioners and advice around water allocation for papakainga will be provided at the next Committee meeting.
· Covid-19 vaccinations to be rolled out to marae soon.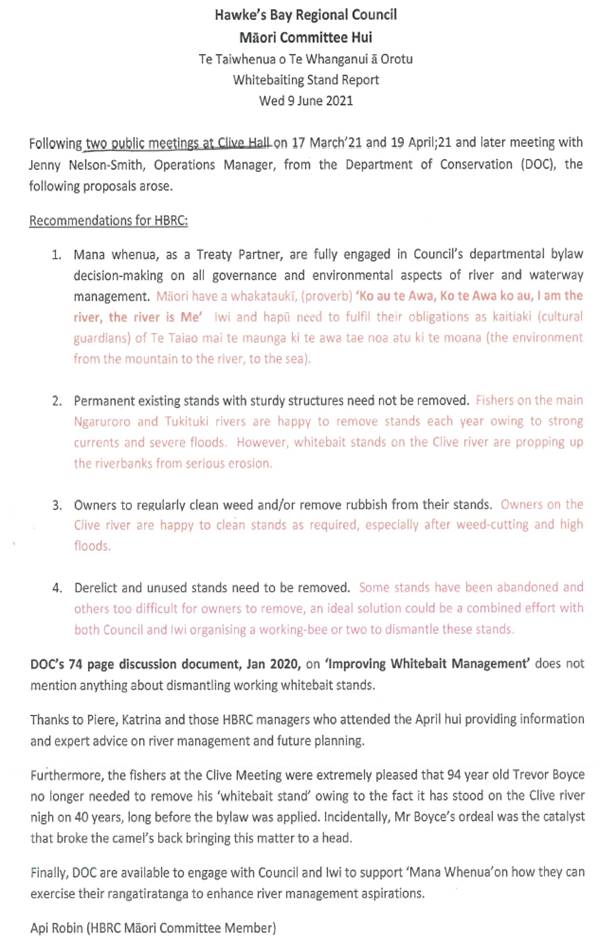 Taiwhenua o Heretaunga – Michael Paku
· Hapu/marae are requesting a key for access to waterways for customary practices, e.g. mahinga kai.
Taiwhenua o Tamatea – Paora Sciascia
· Concerns raised about fishing trawlers in Porangahau Bay - need tighter control measures put in place for Porangahau and working with DoC.