The Committee recommenced hearing verbal submissions on the proposed Regional Land Transport Plan.
1.45pm Sonya Smith obo HB DHB (Submitter 53)
· Wairoa health related travel issues and statistics highlighted that Wairoa people travel an estimated 1 million kilometres each year to visit health specialists and attend hospital appointments in Napier and Hastings
· There is a bus service between Wairoa and Hastings hospital but the timetable is very limited and there are no comfort stops
· Wairoa has no all-weather airport, so often emergency cases are transported by road, 1.5 hours or more to Hastings
· Transport is the primary concern that Wairoa patients have about their treatment
· Reliable roads are a priority with particular concern about the frequent closures occurring around the Devil's Elbow and Tūtira
1.55pm Alain and Sarah Douylliez (Submitter 27)
· Raised public health issues, noise pollution, heavy transport traffic safety issues
· Rural areas are carrying more heavy traffic as travel times can be quicker than via major roads, especially the expressway if it is congested.
· Expressway travel times have increased since the introduction of median barriers
· Trucks should not be using roads that they do not need to
1.59pm Graeme Carroll obo Global Reach Associates (Submitter 52) - via Zoom
· Getting rail back into HB will help meet demand for container freight and logs from Gisborne
· GDC looking to reinstate rail line from Gisborne to Wairoa
· Looking for HBRC to emphasise rail in the RLTP to signal intent to the Government
· Submitter supports GDC advocating for the restoration of the rail line in their RLTP and wants HBRC to also support GDC plan.
2.11pm Robin Gwynn & Jenny Elliott obo Margaret Gwynn (Submitters 56 & 31)
· Critical of draft plan, it needs greater vision to urgently address climate change issues
· Economic foundation of the plan is flawed, need to refer to Professor Sir Partha Dasgupta report for the UK Treasury
· Poor public transport at present, how will the proposed on demand bus service differ from taxis?
· Provide incentives for commuters to use other transport modes instead of personal cars
· 95% of local freight carried on roads, should be looking at rail and sea option
· Need to design cities for less travel
2.33pm Simon Nixon (Submitter 63)
· Transport systems are a major contributor to lifestyle
· Cycling is very dangerous in HB, there are no cycle lanes on roads that have 70, 80 or 100km/h speed limits.
· Cycle lanes through roundabouts are the worst safety issue for cyclists
· Urban transport is not well utilised despite a good fleet as it is expensive to use
· Providing bus services in rural / semi-rural areas (like a lot of HB) is not practical
· Cycling lanes are targeting commuters. There should also be a recreational consideration to encourage people to use and become confident on bikes.
2.44pm Jerf van Beek (Submitter 39)
· Cycling is the transport solution we are looking for – experience in Holland and other European countries provide evidence of this
· Plan should focus on climate crisis
· Private car use is rising because cycling is dangerous and there are no incentives to use alternative modes of transport.
· Poor road design hinders cycling use – there needs to be physical separation between vehicles and cyclists as painted road lanes don't provide protection
· Cycling is environmentally friendly, improves health outcomes (including less traffic accidents / deaths) and is cost effective.
· 100km of cycleway costs the same as one kilometre of roading.
3.00pm Dean Hyde & Jade Peterson obo Younited - EIT Student Assn (Submitter 55)
· Need better public transport for students travelling from CHB and Wairoa to Hastings & Napier, particularly to EIT
· Students are increasingly under budget pressure, more and cheaper transport options are needed
3.10pm Mayor Craig Little obo Wairoa District Council (Submitter 60)
· Roading network in and around Wairoa District has been neglected for decades
· There are too few passing lanes on the Napier to Wairoa road
· Mahia road network is in poor condition
· WDC supports submission 57 from Eastern Transport Initiatives Group
3.20pm Wayne England obo HB Combined Taxis, (Submitter 33) - unable to attend, tabled the following statement

Mayor Alex Walker joined the meeting at 3.12pm
3.15pm Kelly Annand, Matt Broderick and Ave Tuliau Faka'osi obo Matariki Working Group (Submitter 25)
· Drivers licencing options across HB are limited, need more rural licencing opportunities – to improve employment and health outcomes.
· Need driver testing facilities in CHB and Wairoa
· Road codes are not translated into sufficient languages. When translated they can be too literal for practical use.
· Police are seeking a safe roading system which requires properly trained and legal drivers. Licensing equality should be a core consideration of the plan.
The meeting adjourned at 3.31pm and reconvened at 3.45pm.
3.45pm Mayor Alex Walker & Councillor Kate Taylor obo CHBDC (Submitter 54)
· SH2 passing through Waipawa and Waipukurau is a major safety issue, particularly for pedestrians. Highway safety should be included in the plan
· A combined cycleway and footpath between Waipukurau and Waipawa is needed. (A cycleway only is now under construction, funded by NZTA)
· Public transport is non-existent in CHB; volunteer based transport services are available on a limited basis
3.55pm Paul Bailey (Submitter 35)
· Climate change issues are not addressed in the plan
· Public transport needs to be greatly improved before people will use it in sustainable numbers
Federated Farmers (Submitter 37) unable to attend, tabled the following statement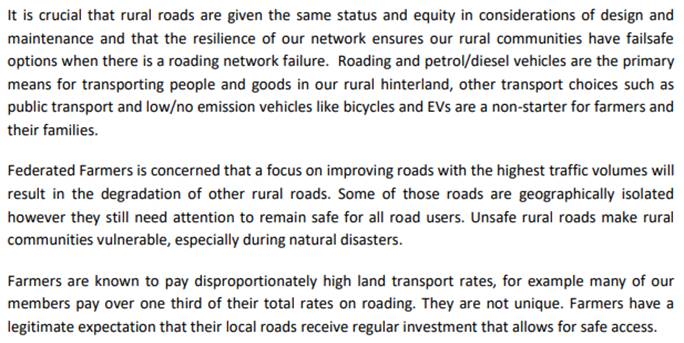 4.05pm Ani Tylee (Submitter 38)
· Climate change is here; plan does not acknowledge or address this
· 20 minute city concept should be adopted – citizens have their needs catered for within a 20 min walk, public transport ride or bicycle ride.
· Resurrect passenger rail link between Napier and Hastings
· Reverse motor vehicle use to reduce emissions
· Leadership from the HBRC is needed to achieve these goals
4.15pm Paula Fern (Submitter 48)
· CHB Public Transport – no urgency for this need shown in the plan
· Passenger rail across HB is required. Plan is too focused on roads, including the ambitions to move from petrol to EV cars.
· Transition engineering is required - asking the right questions first
4.25pm Alan White obo Bike Hawke's Bay (Submitter 50)
· Wants cycling to be safe, comfortable and convenient for the public
· The visions in the plan are too loose and weak, needs to prioritise active transport and be transformational
· Whilst car parking remains abundant and affordable, the public is unlikely to change its car dominated transport behaviour. Parking is not mentioned in the plan.
· E bikes and scooter options need to be taken seriously
Lance Simon (Submitter 11) – did not attend
David Sutherland (Submitter 4) – did not attend
4.35pm Jenny Elliot (Submitter 24)
· Plan needs to address climate change and the need to change transport modes
· Plan should address emissions issues as the first priority and emissions targets should be the primary measure of the plan
· Government is targeting rail as an alternative transport option – plan needs to align with Government ambitions.
The meeting adjourned at 4.46pm and reconvened at 5.05pm
5.05pm Alistair Haliburton, Kate Nimon, Rex McIntyre and Sandy Walker obo Eastern Transport Initiatives Group (ETIG) (Submitter 57)
· Recounted history of the Napier to Wairoa road
· Past ETIG submissions have supported the road following the rail line as a solution
· Significant weather events are no longer uncommon. It is inevitable that the road will be dramatically, perhaps permanently affected by a natural event if it remains as it is. Manawatu Gorge closure sited as a similar example.
· Want HB RTC to start looking at alternates to the road channel, focussing on the Esk Valley to Tūtira section and to initiate a feasibility study for this purpose.
· Livestock transporters are very wary of the road. Road improvements will reduce travel time, emissions and vehicle accidents, benefitting people and livestock.
· A toll road could be a viable option to fund improvements
· The East Coast community is isolated from the rest of the country by a poor road – holding back social and economic growth and detrimental to community health outcomes
· Unlock the potential of northern HB by removing the roading choke point between the Esk Valley and Tūtira